Are you looking for Pune to Lonavala Local Train Time Table 2023?
Below you will find Pune to Lonavala local timetable upside are available as per the newly updated timetable 2022.
As per Railway Instructions or any other emergency Train time can be varied.
So please find the below table as required.
Pune to Lonavala Local Train Time Table 2023 (w.e.f. 11/04/2022)
| | | |
| --- | --- | --- |
| Train | Pune/ Shivajinagar | Talegaon/Lonavala |
| Pune to Lonavala | 5.45 | 7.05 |
| Pune to Lonavala | 6.30 | 7.50 |
| Pune to Lonavala | 8.05 | 9.25 |
| Pune to Talegaon | 8.57 | 9.47 |
| Pune to Lonavala | 9.55 | 11.15 |
| Pune to Lonavala | 11.17 | 12.37 |
| Pune to Lonavala | 15.00 | 16.20 |
| Pune to Lonavala | 16.25 | 17.45 |
| Pune to Lonavala | 17.15 | 18.38 |
| Pune to Lonavala | 18.02 | 19.27 |
| Pune to Lonavala | 19.05 | 20.30 |
| Pune to Lonavala | 20.00 | 21.30 |
| Shivajinagar to Lonavala | 20.35 | 21.50 |
Pune to Lonavala Train Time Table Image –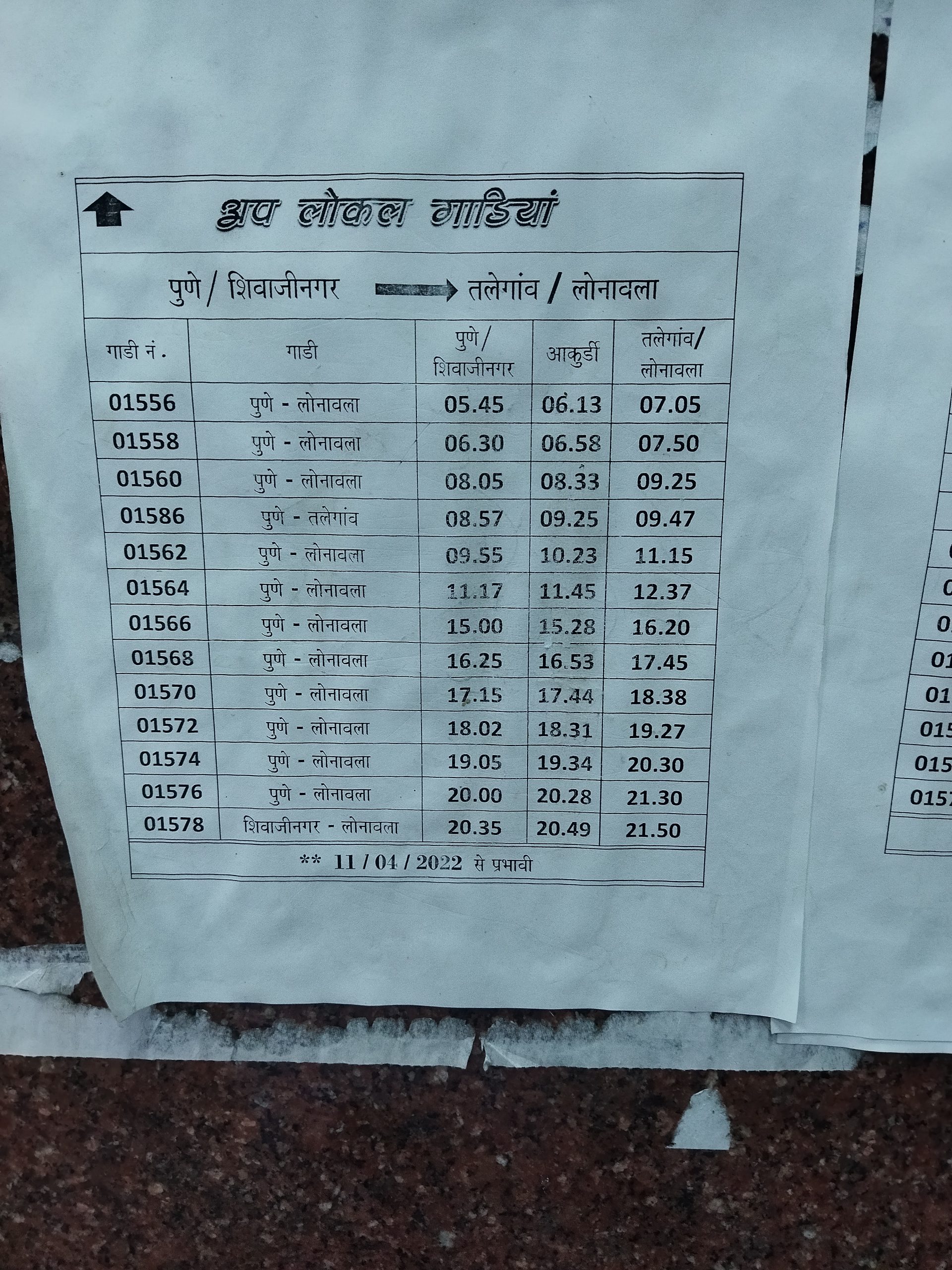 Also Read:
Lonavala Pune Local Train Time Table
Pune Lonavala Local Train Time Table
Pune to Baramati Train Time Table